About Learning Ladder Nurseries in JLT
First branch of Learning Ladder Nursery in JLT, opened in 2012. We currently have two branches, both in ideal locations in JLT.  Both nurseries in JLT, have access to large and secure community outdoor playgrounds as well as to attached nursery outdoor areas, securely fenced in, padded and shaded for the exclusive use of the nursery children.
We also have easy access to pick and drop car park. Our branch in Cluster V, JLT houses children from 11 months to ­4 years of age and our branch in Cluster Q, JLT houses children from 14 months to 5 years of age. We operate from 8 am to 5:30 pm, Sunday through Thursday. Earlier drop off and later pick up can be arranged. We are open throughout the year except for public holidays and some staff professional development days.
Please refer to annual nursery calendar. The nursery has a popular summer and winter camp program. The nursery also offers afternoon club for all children on very flexible terms where attendance could be hourly or daily.
The nursery is approved by KHDA (Knowledge and Human Development Authority), which oversees all schools in Dubai.
Key Features of Learning Ladder Nurseries
in JLT Cluster V and Q
Ideally located in the heart of JLT (Jumeirah Lakes Towers) in Cluster V and Cluster Q with convenient access from Sheikh Zayed Road.
We welcome children from  11 months till 4 years of age at our nursery in JLT cluster V and 14 months to 5 years at our nursery in JLT in cluster Q.
Approachable for residents of Dubai Marina, JBR, Jumeirah Island, Garden / Discovery Gardens, Greens, Springs and Tecom.
Full Day Children's Nursery open through Term and Summer holidays.  Open From 7:30am to 5:45 pm daily from Sunday to Thursday.
We follow the British Early Years Foundation Stage Curriculum(EYFS), incorporating best practices from Reggio Emilia and the Montessori system.
Overseen by the KHDA (Knowledge and Human Development Authority).
Learning Ladder Nurseries are  popular and amongst best nurseries in JLT and surrounding areas, we have two branches of the nursery in JLT and we plan to expand our branch network to nearby areas of Dubai Marina, Gardens, Greens, Discovery Gardens and other major parts of Dubai in the future.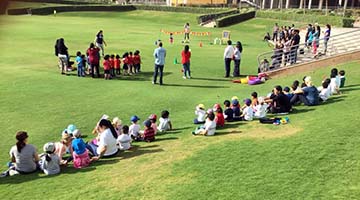 The Best for Your Child
Our nurseries in JLT, aim to provide a happy and caring environment to ensure that the best care, support, and education is available to all our children.
Children learn when they are stimulated and when learning is fun, nothing is more fun for a child than discovering something new every day. We encourage parents to enable their child to discover early learning whether it is learning to make friends and being independent or learning to read and write. Early learning often gives children a head-start at school, builds self-confidence and increases motivation and love for future learning.
The staff also believe that integral to the child's development, he or she must feel safe and secure, by being supported and feeling valued as an individual and that each child should stay healthy, through developing an understanding of healthy eating and the importance of exercise.  All staff are qualified with EYFS experience.
Choosing the right place for your child to make them ready not only for school but also for the world is an important decision. Our goal at Learning Ladder is not merely to transfer specific knowledge, but to arm our children with tools that lead to development of higher ordered thinking.
We invite you to visit either one of our conveniently located branches with your child and see for yourselves our wonderful world of wonder and discovery.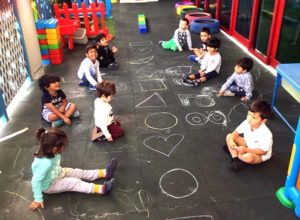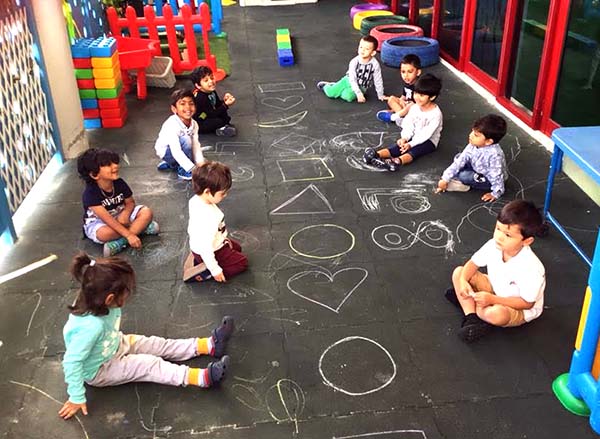 Monthly News – Nurseries in JLT, Cluster V, Cluster Q
Summer Term Newsletter
This newsletter is a closure to yet another brilliant year at Learning Ladder Nursery JLT. It has been wonderful watching the children develop new skills and grow in confidence and see how much the children have learnt through play and exploration. The Education in Human values programme has enabled the staff to develop an environment conducive to learning, honing on the skills like sharing, caring, and turn taking. Ramadan Fridge was a great hit as children were very happy to share food and develop a thought of caring for people around.
A big thank you to the team at the Nursery for all their efforts and making this Academic year such a huge success.
A special congratulations to our Foundation children who have successfully completed Foundation Stage One. Good luck to them in their new big School. I am sure they all will be outstanding. The children and staff put on a spectacular musical performance for their graduation. 'Sharing a Shell'.
Learning Ladder Nursery JLT initiative to interact and involve parents as partners saw more memorable moments. The Assembly of pre FS  class, the most talked about was our Graduation ceremony of our FS1 Class children, The splash day and Fathers Play Date at Learning Ladder Nursery in JLT to name a few of the successful events this Summer Term.
We wish you a happy and safe summer. To our returning families, we look forward to welcoming you back in September for another great promising year. The children have grown so much over this last term. During assembly time it has been great to see how well their language has and is developing. The children have explored their imaginations through rhymes and stories and participated in a variety of activities.
The children have enjoyed role playing activities this term. This has included 'flying to the moon', 'going on a bus' and 'cooking meals' for each other. …
Get the best for your child
Holiday Camps
Exclusive Play Area
Exclusive Play Area – Learning Ladder has its own exclusive, safe and spacious play area. We are also ideally located next to the children's outdoor park area. Outdoor activity makes an essential component of the EYFS Curriculum.
Highest Safety Standards
Highest Safety Standards – Dedicated car park, stairs/elevator free premises, site completely certified by Civil Defense and Environment Health and Safety (EHS) departments of Dubai Government.
British EYFS Curriculum
British EYFS Curriculum – A structured program to gently help every child enjoy learning and transition easily into schooling in the UAE.
Flexible attendance
Flexible attendance – 3, 4, or 5 days a week, for half day or full day. Afternoon Nursery from 2 p.m. till 5:30 pm
KHDA and DHA Approved
KHDA and DHA Approved – Learning Ladder Nursery is approved and overseen by KHDA, Knowledge and Human Development Authority, of Dubai. The Nursery is also inspected and approved by Dubai Health Authority with a full time DHA licensed Nurse as a permanent staff.
Highly qualified staff
Highly qualified staff with extensive teaching experience from around the world, who undergo continuous training to provide the best Early Learning experience.