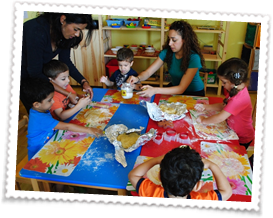 At both our nurseries in JLT, we encourage all children to explore their own creative ability. Each child is unique and different and does not have to be at the same level of development on the same task.
Our staff at Learning Ladder Nurseries, encourages all children to explore their own individual creative ability through play and activities such as dancing, singing, and various arts and crafts.
Dramatic play occupies central place among daily activities at Learning Ladder. It is used as an important way to help children initiate and then sustain imaginary situations with adequate props and through "play plans" that children make themselves.
Our well designed nursery environment and resources help our children to develop in all areas of learning.